Convenient Location
| | |
| --- | --- |
| Kondalilla Falls | 5 mins |
| Long Apron Restaurant | 5 mins |
| Flaxton | 8 mins |
| Mapleton | 10 mins |
| Palmwoods | 10 mins |
| Mary Caincross Reserve | 12 mins |
| Reserve Restaurant | 12 mins |
| Terraces Seafood | 12 mins |
| Maleny | 15 mins |
| Landsborough | 20 mins |
| Nambour Hospital | 20 mins |
| Australia Zoo | 25 mins |
| Maroochydore | 28 mins |
| Sunshine Plaza | 28 mins |
| Glass House Mountains | 30 mins |
| Mooloolaba | 30 mins |
| Spirit House Restaurant | 30 mins |
| Kenilworth | 34 mins |
| Caloundra | 36 mins |
| Noosa | 45 mins |
| | |
Towns Nearby
| | |
| --- | --- |
| Sunshine Coast Airport | 30 kms |
| Bribie Island | 82 kms |
| Gympie | 85 kms |
| Brisbane Airport | 98 kms |
| Brisbane | 100 kms |
| Rainbow Beach | 156 kms |
| Gold Coast | 184 kms |
| Toowoomba | 203 kms |
| Hervey Bay | 204 kms |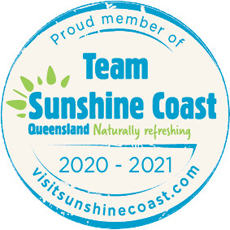 Find Us
118 Main Street
Montville Queensland 4560 [map]
Call Us
Phone: 07 5442 9499
Great Reasons

To Stay With Us
| | |
| --- | --- |
| | Free WiFi Internet |
| | Located right in the heart of the Village |
| | Free Off-street parking |
| | Saltwater swimming pool |
| | Full size wind protected tennis court |
| | BBQ area |
| | Surrounded by lush sub-tropical gardens |
| | Early check-in |
| | Single night bookings welcome |
| | Montville Café Bar & Grill next door |
| | All rooms are non-smoking |
| | All rooms are air-conditioned |
| | Guest laundry |
| | Family rooms |
| | 5 mins to Sunshine Coast Hinterland Great Walks |

What We Don't Have
Montville doesn't have a petrol station, however Montville is located within the Hinterland Great Walk region. This 58km walk crosses the Maleny-Mapleton plateau and the Blackall Range. Towering Bunya Pines, rushing waterfalls and rugged, scarred landscape are some of the natural wonders to be discovered. There are a number of walks from 2 to 7 hours. Campsites are available but bookings are essential – call Smart Service Queensland on 131304. Most walks are not a circuit – you'll need to arrange 'drop off' and 'pick up.'
Montville doesn't have a large 5 Star Hotel, but you will have the opportunity to choose from fully self-contained apartments with spectacular views of the coast, or romantic cabins with an open fires and spa baths, or your preference maybe the convenience of an affordable quality motel right in the heart of the village like the Montville Mountain Inn.
There are no internationally acclaimed attractions like Australia Zoo, or Mooloolaba's Underwater World, or the famous Eumundi Markets, although they are all within a short 30minute drive of Montville.
Montville doesn't even have a Woolworths or Coles supermarket, but it does feature art galleries, pottery studios, antique shops, and a vast array of unique specialty shops including the Black Forest Hill Clock Centre, Montville Woods, A Country Lane, the Italian Shop where you can always find that something different for that someone special; Montville even has its own Sunshine Candy Kitchen where the delicious andy is made right before your eyes
There are no McDonalds, Red Rooster or Dominos Pizza shops, but there are the freshest of fruits available at roadside stalls, its not far to where you can pick your own strawberries, be amazed at the colourful foliage of the ginger plants and taste the ginger products at Yandina's Ginger Factory, take the opportunity to enjoy award winning cheeses at the Maleny Cheese Factory, and spoil someone special with the ice cream that has been voted Queensland's best at Colin James Fine Foods store at Maleny.
Montville doesn't boast a new modern environment, but it does boast a unique yesteryear atmosphere that is accentuated by its cosmopolitan architecture including a blend of Tudor, Irish and English cottages of log and stone, Swiss and Bavarian Chalets, even an old mill water-wheel, and of course Australian colonial and Old Queenslander designs are also featured.
If you need the hustle and bustle of city life, you probably won't enjoy the instant sense of relaxation that Montville's village atmosphere offers.
There are no nightclubs in Montville, which means you'll probably have a great night's sleep.